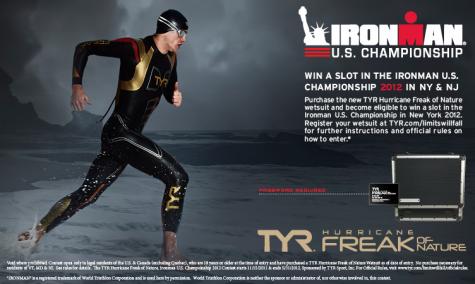 Huntington Beach, CA - November 29, 2011 – TYR is excited to announce the availability of triathlon's new premiere wetsuit: the TYR Hurricane Freak of Nature™. Available on
TYR.com
and at
select retailers
, the "Freak" is constructed of 100% 40 cell Nano SCS Yamamoto neoprene and able to stretch over seven times its static state. Elevation panels throughout the chest, core, and thighs, along with a .17 specific gravity, enable triathletes to keep their body properly positioned in the water. Triathletes seeking top of the line speed and luxury along with a unique customer experience will get the total package in TYR's Hurricane Freak of Nature. The wetsuit is packaged in a TYR branded steel briefcase with a custom Freak of Nature swim cap, a wetsuit care kit, and a member card with an individualized access code. Freak of Nature customers will be able to register at
tyr.com/limitswillfall
for exclusive benefits and contests. "Freak" customers will also be eligible to win a slot in the
Ironman U.S. Championship
. To enter the contest, Freak of Nature owners must first register their wetsuit at
tyr.com/limitswillfall
, where they will be prompted to write a caption for a photo. Captions will be judged on originality, humor, and the spirit of triathlon. For more information on the official rules of the TYR Hurricane Freak of Nature Ironman New York 2012 Contest, visit
tyr.com/limitswillfall/officialrules
. Top triathletes around the world are already praising the benefits of the TYR Hurricane Freak of Nature.
Andy Potts
, who was first out of the water at the 2010 and 2011 Ironman World Championships, calls the Freak of Nature's expanded ROM zones "otherworldly effective", while 4x Ironman World Champion
Chrissie Wellington
has said it is "far and away the most amazing wetsuit I have ever had the privilege to swim in." Racing in the Freak of Nature for the first time, TYR's
Amanda Steven
s was first out of the water at 2011 Ironman Arizona. In addition to Wellington and Potts, other key athletes that will race in TYR's Hurricane Freak of Nature wetsuit include reigning 2011 Ironman World Champion
Craig Alexander
, 2010 Ironman World Champion
Mirinda Carfrae
, and Ironman Champions
Julie Dibens
and
TJ Tollakson
. TYR is running a new "Redefine What's Possible" ad campaign to coincide with the Freak of Nature launch. The campaign will run in Triathlete, Inside Triathlon, LAVA, and 3GO magazines, and on
Competitor.com
and
Slowtwitch.com
. Limited quantities are available now at select retail stores and on
TYR.com
for the holiday season. Additional quantities will be available for Spring 2012. For more information on TYR's Hurricane Freak of Nature wetsuit, visit
tyr.com/limitswillfall
.
About TYR
TYR engineers technical apparel and equipment for swimmers and triathletes. Named for "TYR", the Norse god of warriors, we're a company started by athletes and populated by athletes. The cultures and communities of competitive swimming and triathlon pervade our offices. We are dedicated to re-imagining technologies that help athletes attain peak performance. Like athletes, we work with an intense spirit of competition. We aim to create the fastest, most advanced technologies and products. Always.