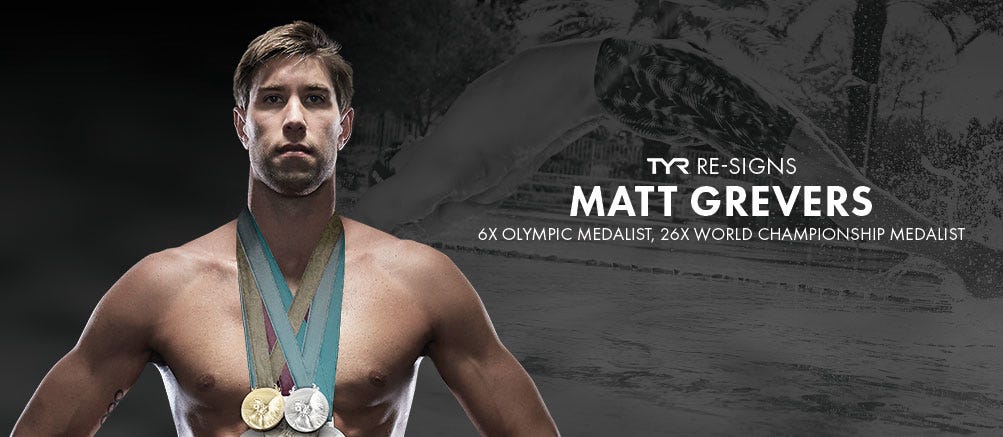 Seal Beach, CA —May 24, 2019 — TYR Sport is proud to announce the re-signing of 6x Olympic medalist and 26x world championship medalist Matt Grevers to its roster of sponsored athletes.
Diving onto the scene in 2008, Illinois native, Matt Grevers, made his first Olympic appearance with a silver medal finish in the men's 100m backstroke. While in
Beijing he also brought home two gold medals for his swims in the
400m freestyle and medley relays. In 2012 Matt was back on top, this time winning his first individual gold medal in the men's 100m backstroke. In addition to this history-making finish, Grevers went on to win a second gold for his performance in the 400m medley relay and a silver in the 400m freestyle relay.
Today the former Team USA Captain and proud father is eager to once again compete on the
world stage. Working in conjunction with the TYR design team, Matt played a major role in the production of TYR Sport's most anticipated technical suit: The TYR Venzo™, which he will continue to compete in as he prepares for 2020.
"Matt has been a member of the TYR family for well over a decade," began TYR Sport Chief Executive Officer Matt DiLorenzo. "During that time we have watched him progress as one of the world's most well known swimmers. As a brand we're proud to have built such a meaningful relationship with him, and we look forward to continuing to support him on his journey toward 2020."
"I'm so thankful to TYR for the last twelve years of support," said Grevers. "I look forward to creating many more memories with the brand, both in and out of the water."
About TYR
Named for TYR, the Norse god of warriors, our company is committed to cultivating a culture of greatness, both in and out of the water. Through vision and American ingenuity, we have become a brand synonymous with the athlete.
From the planning stages to the production floor, everything we do revolves around synthesizing creativity, experience and competition. For us, engineering the most advanced performance products is more than just a goal, it's a requirement.