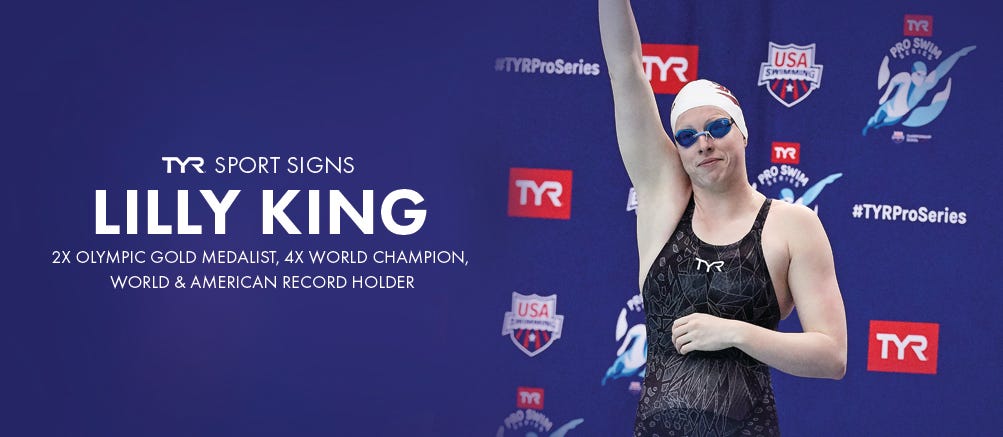 Seal Beach, CA ~ July 18, 2019 ~ TYR Sport is proud to announce the signing of 2x Olympic Gold Medalist, 4x World Championship (LC) Medalist, and World and American Record Holder Lilly King.
"Partnering with TYR is a seamless transition from my college career to officially going pro, as they have been an instrumental part of my past four years at Indiana University," said King. "Together we will promote a clean sport for athletes and create an opportunity for all kids to learn how to swim. I'm humbled by TYR's investment in me and look forward to growing the sport together."
At just 19 years old, breaststroke specialist King turned heads at the 2016 Summer Olympic Games in Rio de Janeiro, Brazil, where she earned gold medals in the 100m breaststroke and the 4x100m medley relay. King's success continued as she broke world records in the 50m and 100m breaststroke at the 2017 World Championships in Budapest, earning gold medals in both events.
"Lilly King is a world-class athlete and we are excited to watch her achieve her goals as a professional swimmer," said Matt DiLorenzo, CEO of TYR Sport. "Lilly's competitive nature perfectly aligns with TYR's core brand values, and we are proud to add her to the TYR family. As a brand, we look forward to collaborating with Lilly on technical product that will help her leave her mark on history."
A standout student-athlete for Indiana University, King is the first woman to sweep the 100-yard and 200-yard breaststroke all four years, making her an 8x NCAA Champion. In 2018, King also became a 3x Pan Pacific Championship Medalist, winning gold in the 100m breaststroke, and silver in the 200m breaststroke and the 4x100m medley relay.
As a member of team TYR, Lilly will join sponsored swimmers including Olympic Medalists Katie Ledecky, Simone Manuel, Ryan Lochte, Dana Vollmer, Matt Grevers, Cody Miller, Leah Smith, Jack Conger, Tom Shields and Kelsi Dahlia, as well as Olympians Jacob Pebley and Molly Hannis.
Since its inception three decades ago, TYR Sport has grown to exist as one of the world's most recognizable swimming and triathlon brands. Founded in Huntington Beach, California, the American company has garnered industry success for major technologies including the celebrated Venzo technical suit. Today, TYR has become synonymous with the most groundbreaking athletes in swimming and continues to be the choice of champions.
About TYR
Named for TYR, the Norse god of warriors, our company is committed to cultivating a culture of greatness, both in and out of the water. Through vision and American ingenuity, we have become a brand synonymous with the athlete.
From the planning stages to the production floor, everything we do revolves around synthesizing creativity, experience and competition. For us, engineering the most advanced performance products is more than just a goal, it's a requirement.