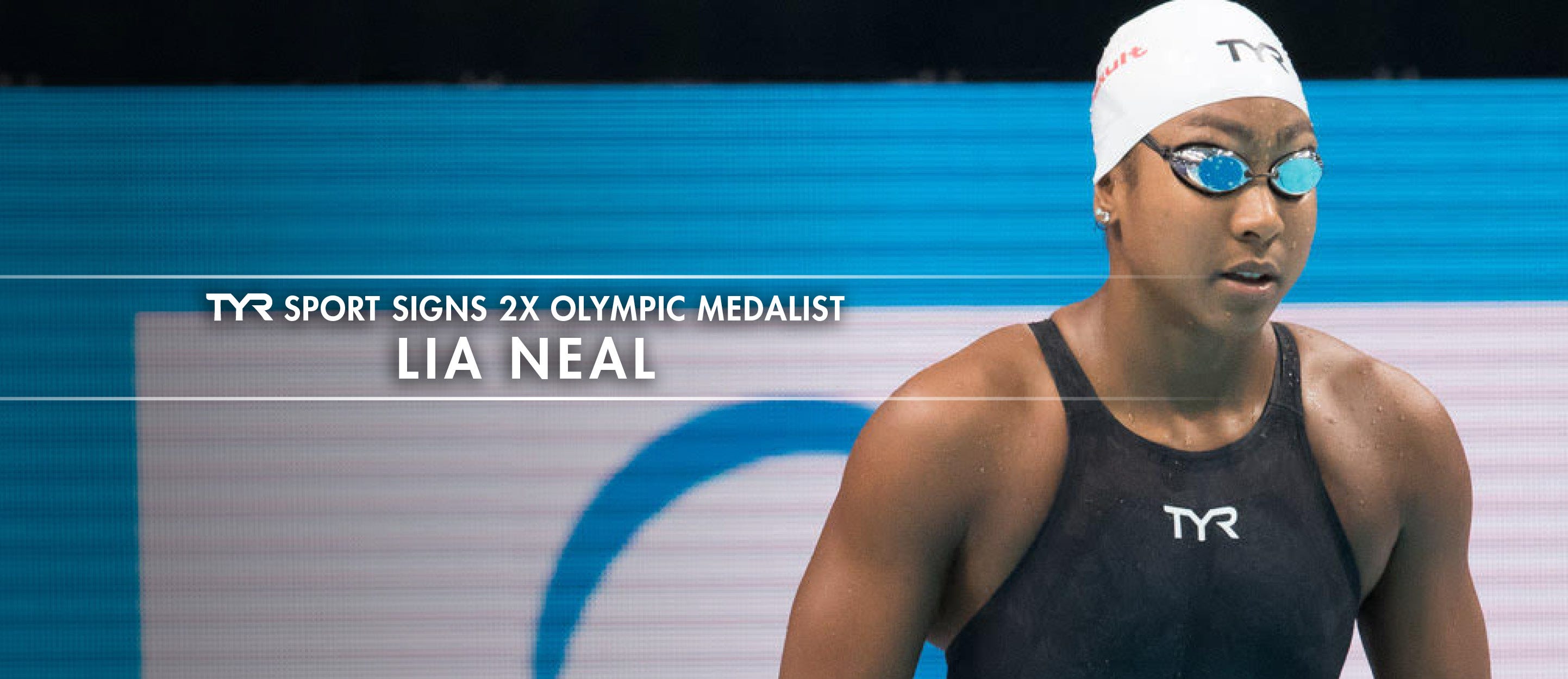 Seal Beach, CA — August 24, 2017 — TYR Sport is proud to announce the signing of 2x Olympic medalist Lia Neal to its roster of sponsored athletes.
Born and raised in Brooklyn, New York, Lia garnered worldwide attention in 2012
when she earned a bronze medal for her swim in the 100-meter freestyle relay at the Summer Olympic Games in London. Still a high school student, Neal became the first swimmer from
Asphalt Green Unified Aquatics (AGUA) Swim Team, where she had been swimming since the age of eight, to both make and medal in the Olympic Games.
However, Neal was only just beginning to set herself apart. As a member of Stanford University Women's Swimming & Diving, Lia earned a national championship title every year since 2014. She finished her collegiate career as a nine-time National Champion, winning three of those titles this year.
In 2016 Lia qualified for her second Summer Games, this time in Rio de Janeiro, Brazil. As a member of the women's 400-meter freestyle relay Neal earned her first Olympic silver medal. Since Rio she has continued to increase her international presence with major swims including a gold medal performance in the 400-meter freestyle relay at the 2017 FINA World Championships. She is currently a 6x World Championship medalist.
Today, Lia joins a growing roster of standout swimmers including 12x Olympic medalist Ryan Lochte, 7x Olympic medalist Dana Vollmer, 6x Olympic medalist Matt Grevers, 2x Olympic medalist Leah Smith, 2x Olympic medalist Cody Miller, Olympic gold medalist Kelsi Worrell and Olympic gold medalist Tom Shields. To date team TYR has earned a total of 35 Olympic and 193 World Championship medals.
"I am very happy to announce my partnership with TYR. This is truly the fulfillment of a lifelong dream for me, and I am thrilled to see what the future holds.
" said Neal.
"We are proud to welcome Lia Neal to the team TYR family," began Chief Executive Officer Matt DiLorenzo. "At a young age she has already proven herself to be an incredible talent, and we are looking forward to supporting her as she continues to grow as an athlete."
About TYR
Named for TYR, the Norse god of warriors, our company is committed to cultivating a culture of greatness, both in and out of the water. Through vision and American ingenuity, we have become a brand synonymous with the athlete.
From the planning stages to the production floor, everything we do revolves around synthesizing creativity, experience and competition. For us, engineering the most advanced performance products is more than just a goal, it's a requirement.