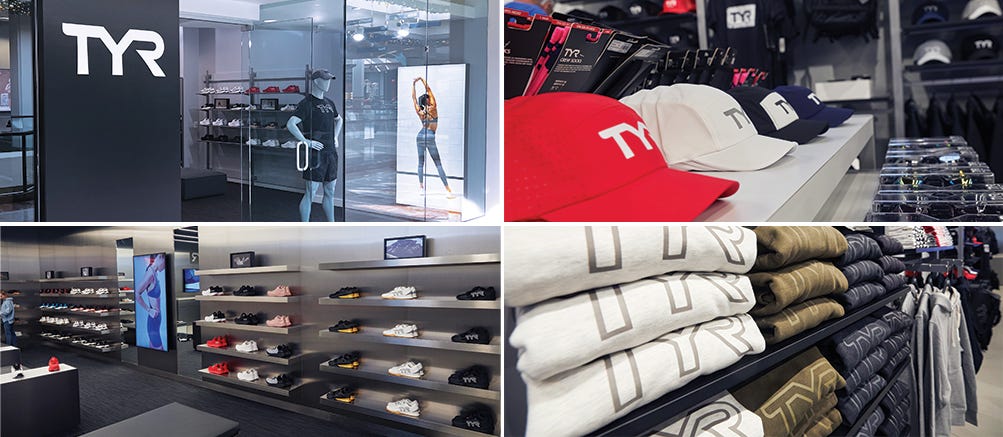 New retail store now open at South Coast Plaza in Costa Mesa
SEAL BEACH CA, November 16, 2023– Following the announcement of its first-ever brick-and-mortar store at Roosevelt Field Mall in Garden City, New York, TYR Sport is thrilled to announce that the brand's next retail store is now open at South Coast Plaza in Costa Mesa, California. This location is one of California's premier shopping destinations and the largest shopping center on the West Coast. Slated to open in November 2023, the new 2,100-square-foot space will showcase TYR's full range of footwear and athletic apparel.

"We are extremely excited to open our second retail location," stated TYR CEO Matt DiLorenzo. "Our unwavering commitment to providing the highest quality performance apparel is at the forefront of our mission. The new store at South Coast Plaza will enable us to reach an even broader customer base in an area renowned for its active and fitness-conscious community. We look forward to welcoming our SoCal-based customers."

TYR's South Coast Plaza location will be staffed by knowledgeable sales associates who share a passion for fitness, wellness, and TYR's innovative products. Customers visiting the store will have the chance to explore TYR's latest product launches and participate in special events featuring partners, athletes, and brand ambassadors of TYR.

Debra Gunn Downing, South Coast Plaza's Executive Director, Marketing, said, "We are so pleased to officially welcome TYR, a brand synonymous with cutting-edge fitness and swim gear, to South Coast Plaza. TYR joins our collection of top brands in the fitness, wellness, and athletics category, including Nike, Lululemon, HOKA, New Balance, North Face, JD Sports, Vans, and other industry leaders. The debut of TYR is part of our commitment to bringing new and unique quality brands to South Coast Plaza."

Founded in 1985 with the ambition to revolutionize the competitive swim market through innovative technical swimwear, TYR has grown to become one of the world's most recognizable fitness and swim brands. Its impressive track record includes the support of athletes in achieving both personal records and world championships.
About TYR
At TYR, we create innovative and performance-driven products that empower athletes to reach their highest potential and inspire them to be their best selves. For more information, please visit TYR.com.

About South Coast Plaza
South Coast Plaza is a premier shopping destination located at 3333 Bristol Street in Costa Mesa, CA 92626. The plaza offers a wide array of high-end retail, dining, and entertainment experiences, making it a community gathering place for millions of people every year.
MEDIA CONTACT:
TYRSportPR@coynepr.com
973-588-2000