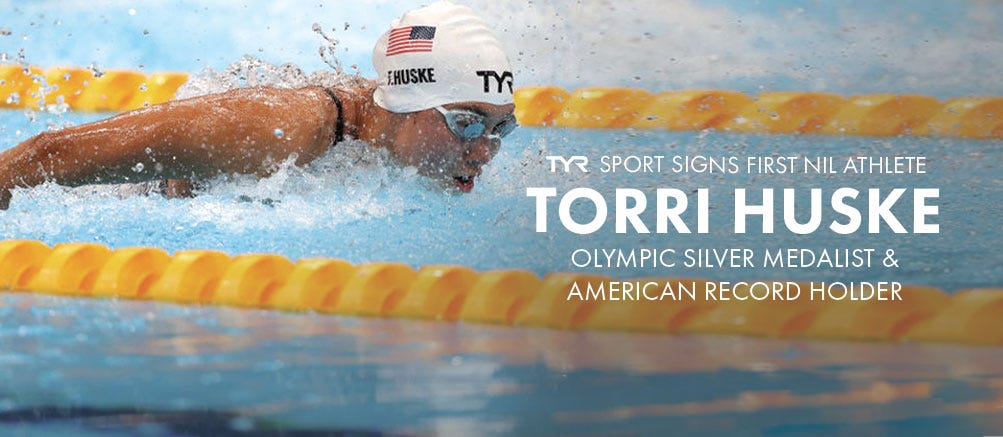 Seal Beach, CA – August 13th, 2021 - TYR Sport is proud to announce the signing of Olympic Silver Medalist and American Record Holder Torri Huske.
"We are beyond thrilled to have Torri as a member of the TYR family," said Matt Dilorenzo, CEO of TYR Sport. "As TYR's first NIL athlete, Torri will have the opportunity to represent the brand at both international and national level competitions and pro meets. A fierce competitor, Torri's grit and tenacity aligns perfectly with our core company values, and her talent and potential is unmatched as we look towards Paris. "
In 2019, Huske burst onto the swim scene at the World Junior Championships winning six medals: five gold, and one silver. Her success continued at the 2021 Trials, where she clocked a 55.66 in the 100 Fly to punch her ticket to Tokyo in American-Record fashion. With a time of 55.73 in the 100 Fly finals in Tokyo, Huske narrowly missed the podium by .01, and was only .14 away from Gold. She finished the competition strong, helping the U.S. to a silver medal in the 4x100 medley relay final.
"TYR initially caught my eye a few years ago when I looked around and noticed that many of the best swimmers were wearing their suits," said Huske. "I later realized that we shared a similar vision of inclusivity and that their ideals of growing the sport aligned with mine. TYR's innovative technology felt fast in the water and I was so proud to wear it while representing the United States at the Olympics. I could not be more thankful for this opportunity and for TYR's support as I pursue my goals and share my passion for the sport with others."
As a member of team TYR, Huske will join sponsored swimmers including Olympic Medalists Katie Ledecky, Simone Manuel, Ryan Lochte, Lilly King, Michael Andrew, Annie Lazor, Townley Haas, Melanie Margalis, Tom Shields and Kelsi Dahlia, as well as Olympians Nic Fink, Jordan Wilimovsky, Molly Hannis and Ashley Twichell.
Since its inception three decades ago, TYR Sport has grown to exist as one of the world's most recognizable swimming and triathlon brands. Founded in Huntington Beach, California, the American company has garnered industry success for major technologies including the celebrated Venzo technical suit. Today, TYR has become synonymous with the most groundbreaking athletes in swimming and continues to be the choice of champions.
About TYR
Named for TYR the Norse god of valor and sacrifice, we're a company built on commitment and discipline. We've been pushing the limits of innovation to propel athletes to their absolute best for over 35 years. Whether it's personal records or world championships, we have the hard earned hardware to back it up.