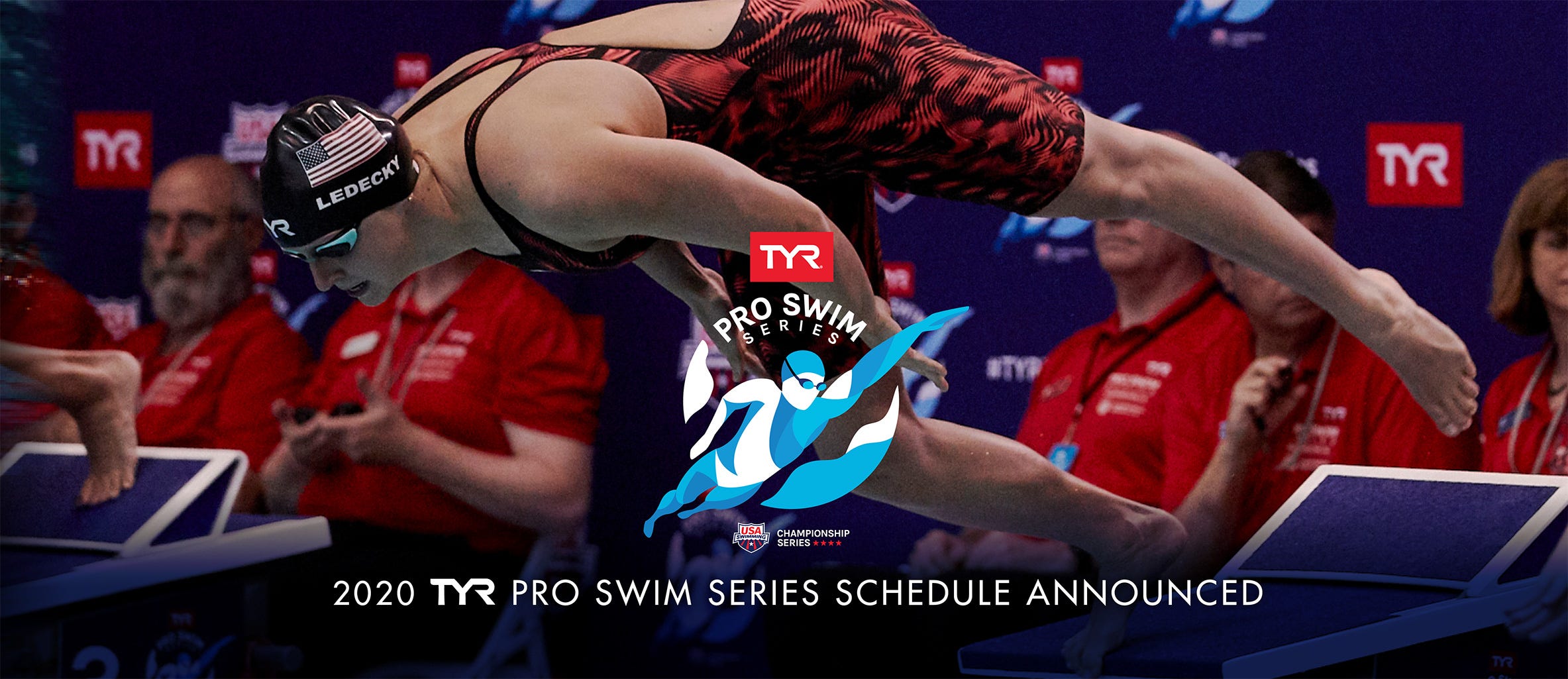 Seal Beach, CA—June 20, 2019—In partnership with USA Swimming, TYR Sport is excited to announce the five stops of the 2020 TYR Pro Swim Series. Swimmers from around the globe will compete in the top swim series from coast to coast beginning in November 2019 through May 2020. Athletes will use the world-class events in Greensboro, N.C.; Knoxville, Tenn.; Des Moines, Iowa; Mission Viejo, CA and Indianapolis, Ind. in preparation for their run to the 2020 Olympic Games. Fans can experience the 2020 TYR Pro Swim Series at the following event venues:
Nov. 6-9, 2019: TYR Pro Swim Series at Greensboro (Greensboro Aquatic Center)
Jan. 16-19, 2020: TYR Pro Swim Series at Knoxville (Allan Jones Intercollegiate Aquatic Center)
Mar. 4-7, 2020: TYR Pro Swim Series at Des Moines (MidAmerican Energy Aquatic Center at the Wellmark YMCA)
Apr. 16-19, 2020: TYR Pro Swim Series at Mission Viejo (Marguerite Aquatic Center)
May 6-9, 2020: TYR Pro Swim Series at Indianapolis (IU Natatorium)
This year, the 2019 TYR Pro Swim Series concluded on June 15 in Clovis, CA, with more than 1,100 athletes from around the world participating in at least one of the five events. "We at TYR are proud to support athletes with the penultimate event series on their journey to the 2020 Olympic Trials," began Chief Executive Officer Matt DiLorenzo. "If 2018 and 2019 are any indication of what is to come, TYR is eager to provide fans and local communities with a first-class spectator experience."
The TYR Pro Swim Series is a 3.5-day long course event televised on NBCSN, the Olympic Channel, as well as live streamed at
usaswimming.org
. Historically, each stop attracts between 400-600 of the world's top swimmers including, USA Swimming National Team members, Junior National Team members and top-50 world ranked swimmers.
"We work closely with our event organizing partners to offer a premium experience for athletes and fans," USA Swimming Chief Commercial Officer Shana Ferguson said. "We are fortunate to have incredible partners and strong local clubs' support as we showcase the world's greatest athletes in communities throughout the U.S. We will continue to use the TYR Pro Swim Series to provide more exposure to the best in international competition."
As a partner of USA Swimming, TYR continues to turn heads in and out of the pool. In addition to its state-of-the-art technologies and celebrated Venzo tech suit, the brand also boasts an impressive roster of sponsored athletes including 6x Olympic medalist Katie Ledecky, 4x Olympic medalist Simone Manuel, 12x Olympic medalist Ryan Lochte, 7x Olympic medalist Dana Vollmer, 6x Olympic medalist Matt Grevers, 2x Olympic medalist Leah Smith, 2x Olympic medalist Cody Miller, and Olympic gold medalists Kelsi Dahlia, Jack Conger and Tom Shields.
About TYR
Named for TYR, the Norse god of warriors, our company is committed to cultivating a culture of greatness, both in and out of the water. Through vision and American ingenuity, we have become a brand synonymous with the athlete. From the planning stages to the production floor, everything we do revolves around synthesizing creativity, experience and competition. For us, engineering the most advanced performance products is more than just a goal, it's a requirement.
About USA Swimming
As the National Governing Body for the sport of swimming in the United States, USA Swimming is a 400,000-member service organization that promotes the culture of swimming by creating opportunities for swimmers and coaches of all backgrounds to participate and advance in the sport through clubs, events and education. Our membership is comprised of swimmers from the age group level to the Olympic Team, as well as coaches and volunteers. USA Swimming is responsible for selecting and training teams for international competition including the Olympic Games, and strives to serve the sport through its core objectives: Build the base, Promote the sport, Achieve competitive success. For more information, visit
www.usaswimming.org
.