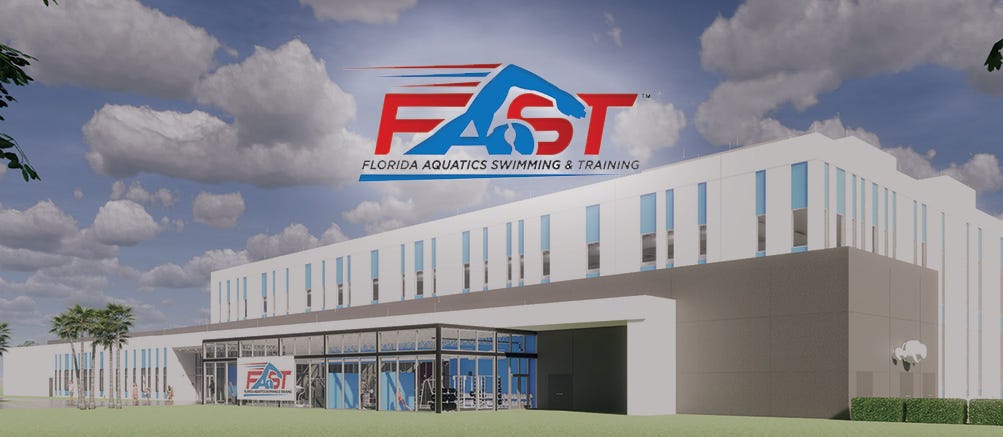 Seal Beach, CA - September 1, 2021 - TYR Sport is proud to announce that it has signed on as the exclusive swimwear supplier for the Florida Aquatics Swimming & Training program (FAST).
Set to open in March 2022 in Ocala, FAST is on track to be one of the five best swimming facilities in the country. The covered pool—called a natatorium—will feature an indoor 10-lane 50 meter/25 yd Olympic competition, pool deck space for up to 800 swimmers, and over 2,000 spectator seats. The Myrtha Pools 2020 Olympic Trials warm-up pool will be the outdoor competition pool. It will also become home to local high schools and numerous local aquatics programs.
"We are thrilled to partner with TYR in our brand new aquatic facility. Not only do they design exceptional products and offer remarkable customer service, TYR aligns with our core value of helping every athlete be their best. That makes them a clear-cut choice in a swimwear partner," said Circle Square Foundation Executive Director Rebecca Rogers.
The mission of FAST is to train swimmers and athletes of all ages and abilities to go beyond their best through exceptional coaching, premier facilities, and cutting-edge athletic programming. Head Coach Brian Schrader will lead the operational aspects of the FAST Swim team while coaching swimmers to attain their personal best. FAST will provide a wide variety of programs beyond recreation and competition. The programs at FAST will include swim lessons, drowning prevention, aquatic therapy and fitness, and life-saving water training for lifeguards and fire and rescue personnel. There is also an indoor fitness facility for optimal dryland athletic training.
"At TYR Sport we pride ourselves on not only energizing the swim community with gear they can believe in, but in also taking on roles that actively support the growth of the sport," said CEO of TYR Sport Matt DiLorenzo. "In partnering with FAST, we look forward to supporting many future and current swimmers of all levels, as well as the local Ocala community."
Since its inception three decades ago, TYR Sport has grown to exist as one of the world's most recognizable swimming and triathlon brands. Founded in Huntington Beach, California, the American company has garnered industry success for major technologies including the celebrated Venzo technical suit. Today, TYR has become synonymous with the most groundbreaking athletes in swimming and continues to be the choice of champions.
About TYR
Named for TYR the Norse god of valor and sacrifice, we're a company built on commitment and discipline. We've been pushing the limits of innovation to propel athletes to their absolute best for over 35 years. Whether it's personal records or world championships, we have the hard earned hardware to back it up.